Telefónica Tech Receives Partner of the Quarter Sustainability Award
Today, Telefónica Tech received a Partner of the Quarter Sustainability Award in recognition of its continued commitment to promoting sustainability through IT asset reuse, upcycling, and recycling. Through its partnership with IT asset lifecycle specialist KOcycle, Telefónica Tech has successfully diverted 15,000 KG of customers' e-waste from heading to landfill, across five different continents over the past twelve months.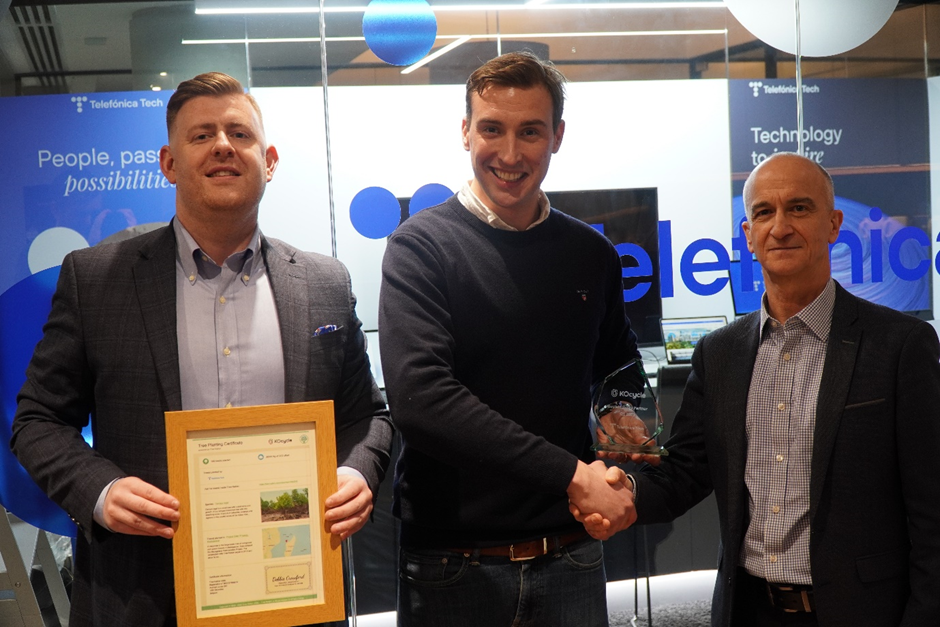 To offset the CO2 KG consumed in the processing and re-purposing or recycling of end-of-life assets, Telefónica Tech and KOcycle have planted over one thousand trees, since the start of the partnership in January 2022.
Mark Gorton, CEO of Telefónica Tech: "We are proud to receive this award in recognition of the significant volume of IT assets we have successfully managed to save from landfill on our customers' behalf. Moving towards more sustainable IT is important for us as a business and for our customers. We look forward to building upon this successful partnership with KOcycle in the future."
Oliver Mason – Managing Director of KOcycle 'It has been fantastic to see the sustainability journey Telefónica Tech has been on. From the start of our engagement, the team has been proactive and committed in their approach to discussing lifecycle services. Telefónica Tech are already making such a difference and we have no doubt they will continue to drive purposeful, sustainable outcomes for their clients."
To help customers meet their sustainability goals, and safely dispose of end-of-life IT assets Telefónica Tech works with carefully selected IT Asset Lifecycle Solution specialists.
Find out more about our IT Asset Lifecycle Solutions.